Perfect for your Christmas trip.
Boiled Fruit and nut pudding
Category
Camp Oven Cooking
Author:
Brad Lumb
Perfect for your Christmas trip.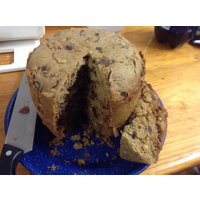 Ingredients
3
Cups SR Flour
1 Cup Brown Sugar
2 Eggs
1 Teas Bicarb Soda Dissolved in 3 tablespoons
hot water
1/2 Cup Rum ( or more to taste I used 3/4 cup
)
1 Teas Vanilla Essence
1 Teas Nutmeg
1 Teas Mixed Spice
1/4 Cup of Slivered Almonds
1 x 200g packed Glace Cherries
1 Box of Mixed Fruit or 3 Cups
1/4 cup of Milk ( Add more at the end if Mixture is to dry as
it should be thick and sticky , or add bit more flour if mixture is too runny)
4 Tablespoons of Oil
Canola , olive etc , or
150 g of Butter can be used instead
Directions
Pudding Basin Method
Place all Fruit and rum in a small saucepan over the heat diffuser and heat until hot but not boiling.
Remove from heat and stir then let sit for 20min to soak in the rum this can be done over night as well.
Add fruit and rest of Ingredients to a mixing bowl and mix well (if you are using butter instead of oil melt this first).
Place Mixture in a Large Metal Pudding basin. Make sure the mixture is no higher than 3/4 up the sides to allow for rising,cut a round piece of Baking paper and place on pudding mixture then clip on basin lid firmly.
Place pudding in a camp oven on a trivet.
Add Boiling water to the camp oven to reach 3/4 of the way up the outside of basin , place lid on camp oven and have the water on a steady Simmer boiling pudding for 3 hrs topping up the water as needed.
If you don't have a pudding basin you can use do a Traditional Boiled Cloth Pudding as below:
Traditional Cloth Bag Method
Boil a calico cloth in water for 2 minutes. Remove cloth. Squeeze out excess water and spread cloth on bench.
Rub 1/4 cup plain flour into centre of cloth to cover around 40cm in diameter.
Place pudding mixture in centre of cloth. Gather cloth around pudding, avoiding deep pleats. Tie cloth tightly with string about 2cm above mixture to allow for expansion .
Place pudding in a camp oven on trivet then add enough boiling water to come up to just below the String then hang the Tail of the Pudding over the side of the camp oven a couple of cm and spread out so lid can can go on.
Keep checking the water level and top up as needed , boil for 3 hrs until pudding is firm to touch.
Once cooked remove pudding from water. Place in a colander. Remove string and carefully start peeling back cloth, scraping the 'skin' back onto the pudding with a knife if necessary. Invert pudding onto a plate.
Peel cloth away completely.
Stand for 15 minutes.
Serve.
Oven bag method
Lightly flour the inside of an medium oven bag with a tablespoon of flour. Hold top closed and shake bag then tip out the excess flour.
Place pudding mixture inside the bag. IMPORTANT~ Using a rubber band or twist tie, seal the bag at the top, but first first squeeze out all of the air to allow for expansion.
Place Pudding mixture inside a small steel or Pyrex/oven proof bowl so it keeps its round shape while cooking then place this bowl in a camp oven. (you may just put the whole bag into the camp oven but the shape won't be a traditional pudding shape.
Add boiling water.
Place lid on the camp oven and simmer for 3 hours keeping the water level topped up.
What our customers say
Exactly what I was looking for

- I was looking for something wood-fired and portable that I could take anywhere to boil water and cook a meal on and that could also be my home BBQ. The Pig is simpler and safer than a camp fire and a great back-up at home if everything goes down. I've only done BBQs so far and I'm enjoying the added wood-smoke taste. Looking forward to cooking more sophisticated meals down the track.



Series 2 - a genuine belter!

Series 2 - a genuine belter! Loving my series 2! During my "burning in" tests it really does belt out some heat, one of the primary reasons for the purchase. Guaging heat, I've cooked a couple of hamburgers and some stove top coffee all with great success. My only suggestion is when you've finally decided to treat yourself to a piggy, super treat yourself and get as many of the accessories as you want at the same time. You'll want to use em and I guarantee you'll go back and buy them anyway. No sell, thats a fact, so go the full hog! (thats a pun) Great service, fast post and I'm genuinely looking forward to the colder weather kicking in.



Great bit of kit

We have the ozpig series 2 under a patio. Only just bought the house and the pig so we haven't got it in a specific final spot just yet. But having these extra offset and pieces helps keep smell and smoke (not that there is much using nice ironbark) definitely recommend this kit for use under a patio. Plus fast and easy postage made buying them easy as. 5 Stars



Big pig - loving it

We love our big pig . It's so beautiful to sit around having the large opening and we are loving the smoker having started making beef jerky . We had a baby pig but this one is hands down the best